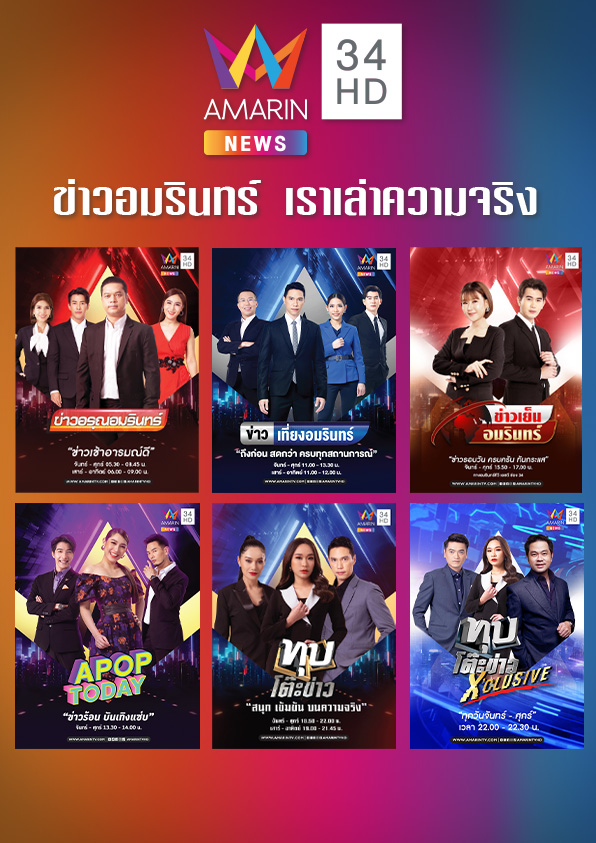 Amarin Television Company Limited
Amarin Television Company Limited is a subsidiary of Amarin Corporations Public Company Limited which listed on the Stock Exchange of Thailand. The Amarin group of companies is a leader in publication business that produces books, magazines such as Baanlaesuan, Praew, Cheewajit, National Geographic Thailand, and has expanded the business to event organizing business (Amarin Event), new media production (New Media) and television business (Amarin Television).
Amarin TV is a digital television station presented in high definition (HD TV) operated by Amarin Television Company Limited under the channel name "Amarin TV HD Channel 34" which offers news programs, entertainment and general knowledge to viewers nationwide 24 hours a day. Amarin Tv is listed in the top 10 most popular TV channels in Thailand with a variety of programs such as "Tub Toh Khao" the Top 3 of news programs of digital TV channels with distinctive style of news presentation with announcers Phutphawan and Jitti Sridee under the program concept of dare to speak the truth that nobody dares to say, "Kho.Khon Khanthep" and "Theung Thua Lok" high popular factual Entertainment programs that provide knowledges, also, game show programs, sport programs and etc. We also provide variety programs that responds to various lifestyle of audiences such as house- related programs like "Baanlaesuan", "Chang Prajam Baan", "My Home", food TV programs like "Chepphajon Longphung", "Tam Amphoe Jan", travel program like "Supta Patalui" and quality dramas from Thailand's leading drama producers.
Amarin TV HD Channel 34 commits to creating more quality and diverse programs for the audiences and aim to be more popular and welcomed TV channel from nationwide audiences.